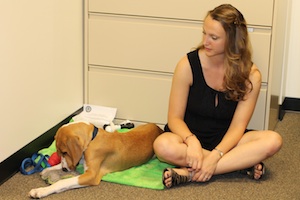 If you take a look at our People page, it's clear that the SLaP Lab thrives on involvement of both undergraduate and graduate students!  This page outlines opportunities for joining our team. Please contact us with any questions regarding joining our research team.
Opportunities for Graduate Students
Students with a Bachelor's or Master's degree in Psychology, Cognitive Science, Linguistics, Speech and Hearing Disorders, or related fields are encouraged to contact Dr. Theodore for more information on opportunities for joining the lab as a Ph.D. student. We are actively recruiting for a doctoral student to begin in the fall of 2019. Our laboratory is formally affiliated with the interdisciplinary Neurobiology of Language training program, the Cognitive Science Program, the Connecticut Institute for the Brain and Cognitive Sciences, and Haskins Laboratories.
Master's students in the SLP M.A. program are heartily invited to complete a Master's thesis in the our lab. Completing a Master's thesis serves as the comprehensive component of the degree requirements and is completed in lieu of the clinical case study. Interested students should contact Dr. Theodore regarding this possibility in the first year of their graduate studies. Some funding opportunities are available for students who take this option, including tuition remission and a stipend.
Opportunities for Undergraduate Students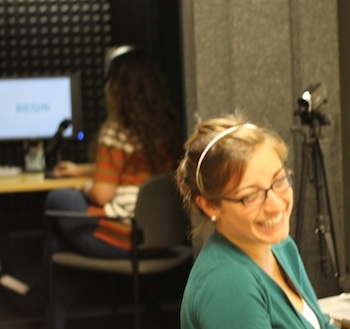 We're always interested in intelligent, responsible, highly motivated students who want to supplement their formal coursework with training in a laboratory environment. Your education in laboratory methods will be very diverse because such is the nature of science! Our goal is to give you a wide variety of experiences that will promote a hands-on understanding of how science is conducted. You'll likely assist in myriad aspects of the research process including stimulus creation, data collection, experiment programming, preliminary data analysis, poster preparation, and data entry. Here are some specific ways to join the lab:
Independent study:  With this arrangement, a student works part-time in the lab (generally 10 hours per week) in exchange for course credit (generally 3 semester hours).  Students can take independent study in any semester, including the summer. If you're interested in this option, it's best to contact Dr. Theodore at least one semester in advance as these positions fill quickly.
Paid research assistantships:  When available, paid positions are posted on the UConn Student Employment website. In addition, students with federal work-study awards are encouraged to contact Dr. Theodore for paid positions.
SHARE award:  The UConn Office of Undergraduate Research provides awards that fund student involvement in a lab for a semester. This mechanism is designed to foster a research apprenticeship between an undergraduate and a faculty sponsor. The awards are made on a competitive basis and require a joint student-faculty application. This is a great mechanism for undergrads who are early in their career here at UConn. If you are interested in the SHARE award, then please contact Dr. Theodore.  Applications are generally submitted in the Fall semester for funding during the following Spring semester.
SURF award:  This award is also sponsored by the UConn Office of Undergraduate Research and provides funding for students to work in a lab during the summer months. As with the SHARE award, the SURF is a competitive mechanism that requires a joint student-faculty application. If you are interested, then please contact Dr. Theodore.  Applications are generally submitted early in the Spring semester for funding during the immediate summer.
Honors research:  We heartily welcome students who are interested in completing their undergraduate honors project in the SLaP Lab. Please contact Dr. Theodore to set up a meeting if you are interested in this possibility.